Environment and Gene Regulatory Influence Network (EGRIN) model for C. difficile 630
Environment and Gene Regulatory Influence Network (EGRIN) model for C. difficile 630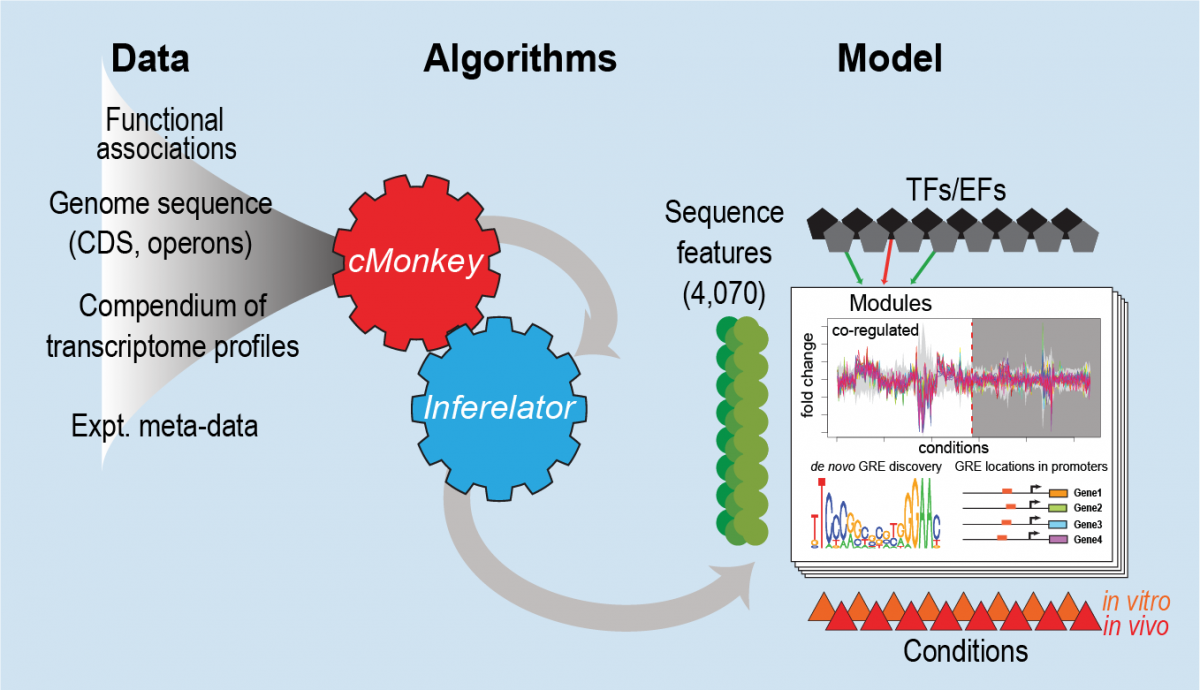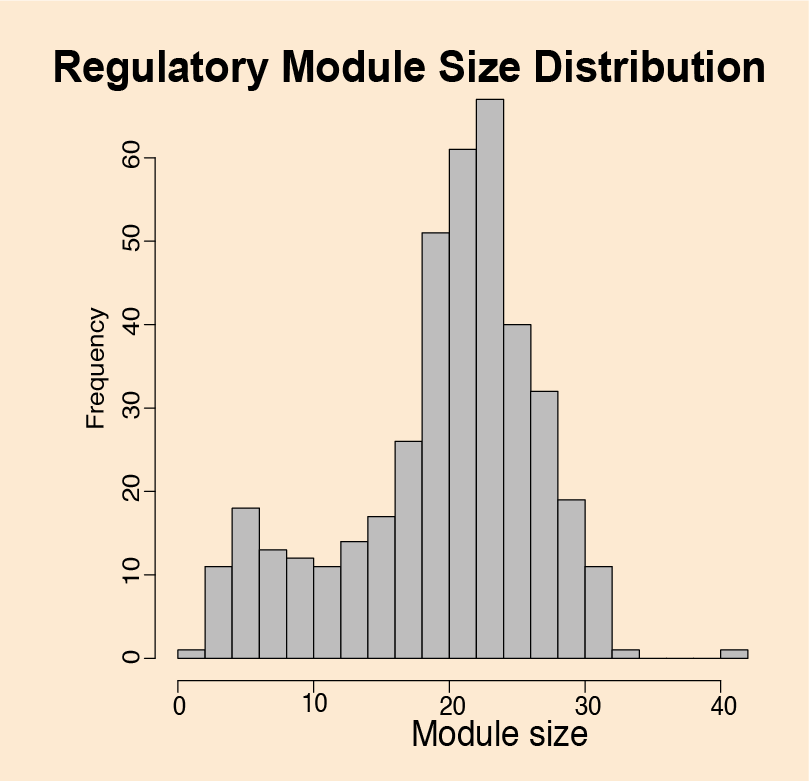 The Environment and Gene Regulatory Influence Network (EGRIN)
model of
C. difficile
630 was inferred using
cMonkey2
and a compendium of 136 transcriptomes (retrieved from the Gene Expression Omnibus repository) with 4,070 sequence features including 35 rRNAs and 90 tRNAs . The
C. difficile
EGRIN model groups genes in subsets (406 modules in total), that are co-regulated in specific environments, and also identifies the associated, putative cis-acting gene regulatory elements (GREs), which represent potential TF binding locations. Transcriptome compendium included conditions: response to iron limitation, response to oxygen, in vivo vs in vitro growth, short term infection (0, 30, 60, 120 mins), response to commensals and host diet, transition from exponential to stationary phase, fur KO, codY KO, sporulation TF (and sigma factors) KOs.
Explore Regulatory Modules
Displaying 1 - 10 of 406
Candidate transcriptional regulators for each module were determined with a linear regression based approach (Inferelator) and by evaluating the statistical significance of the overlap (Hypergeometric) between modules and putative TF and alternative sigma factor regulons (CcpA, CodY, Fur, PrdR, SigB, SigD, SigE, SigF, SigG, SigH, SigK, Spo0A) compiled from available literature.
* Given that translation start was used to define the 3' end of putative promoters, some cis-regulatory motifs are likely to be ribosome binding sites (i.e., Shine-Dalgarno sequence). RBS is typically a six nucleotide sequence 5'-GGAGGA-3'.
Title
Gene Count
Motif 1 e-value
Motif 1 logo*
Motif 2 e-value
Motif 2 logo*
Residual(desc)
Expression
TF Influences
Module_28
16
NA
NA
0.12
Inferelator: 2 Hypergeometric:

0

Module_197
28
1.4
NA
0.13
Inferelator: 1 Hypergeometric:

0

Module_277
16
0
0
0.14
Inferelator: 2 Hypergeometric:

0

Module_79
15
NA
NA
0.14
Inferelator: 2 Hypergeometric:

0

Module_133
21
0
0
0.17
Inferelator: 1 Hypergeometric:

0

Module_298
18
0.000000026
0.04
0.20
Inferelator: 1 Hypergeometric:

0

Module_158
13
1.8
NA
0.21
Inferelator: 1 Hypergeometric: 1
Module_80
30
0.08
NA
0.21
Inferelator: 2 Hypergeometric:

0

Module_161
18
1.1e-21
1.9e-18
0.21
Inferelator: 4 Hypergeometric:

0

Module_317
14
NA
NA
0.22
Inferelator: 2 Hypergeometric:

0